Map Assets in Your Community
Check out our 10-minute Virtual Community Asset Mapping video! In this presentation, we share a brief overview of the work Place Matters is doing to implement a community-based Continuum of Care across Maine and introduce a Community Asset Mapping activity we invite you to participate in. 
View our Virtual Asset Mapping Presentation
Our proposed continuum includes the following categories: prevention, early intervention, intervention, intensive intervention, out-of-home treatment, and reintegration. These categories are based on national examples of systems of care and consultation with local and national experts.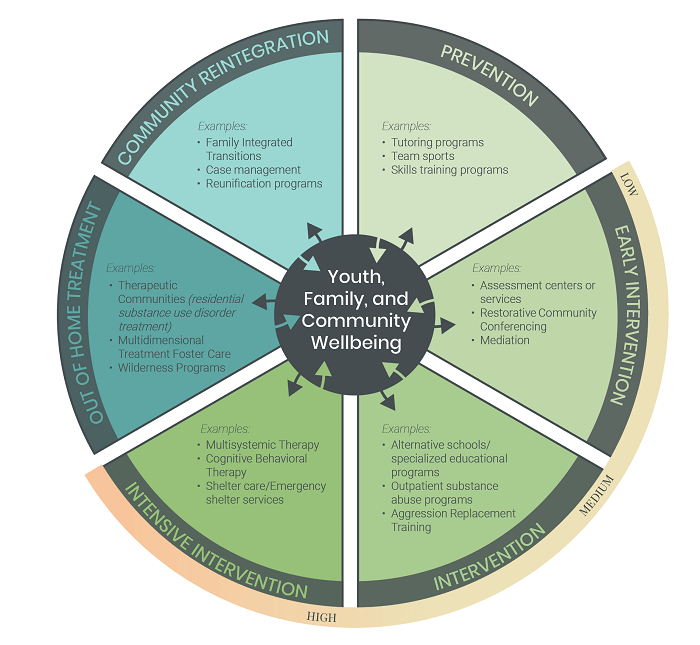 Opportunity Pathways is an initiative to incubate and provide services for youth who have experience with homelessness, school pushout, the mental and behavioral health system, the child welfare system, and the juvenile justice system. The aim is to support these young people to have the education, employment opportunities, and resources to achieve financial stability, such as post-secondary credentials, degrees, certificates, and access to fulfilling employment. Targeted strategies towards young people with the highest needs will have a large impact on youth well-being in the state. This will help interrupt the cycle of system involvement, incarceration, and recidivism, as well as the costly burden placed on taxpayers when individuals are unable to access education and employment opportunities.
We are providing facilitation and research support to this Maine Department of Corrections led effort to convene cross-systems partners, providers, and other stakeholders to support youth in community as well as to identify and inform statewide program and policy change.
For more information on Regional Care Teams see the Maine Juvenile Justice System Assessment and Reinvestment Task Force website.
Our team is developing approaches to support child-serving systems to share data and increase transparency. Stay tuned for more developments!